GRILL ACCESSORIES

Make A Tasteful Impression
Adding unique real-smoke-flavors to your outdoor cooking is surprisingly simple. Every Alfresco Grill comes equipped with our state-of-the-art SIGNATURE TASTE™ integrated smoking system, allowing for unparralled originality. From "smoketissing" to cold-smoke roasting, no other grill in the world offers more control, power, and versatility.
ALFRESCO LUXURY
GRILL DETAILS
For truly passionate foodies, cooking equipment becomes an extension of the creative mind. The Alfresco Luxury Grill is a fine-tuned machine with proprietary features that will fuel your passion and potential, allowing you to create truly extraordinary meals.
ALFRESCO'S EXCLUSIVE


ACCUFIRE™

HEAT SYSTEM
At Alfresco, we understand that precision-directed power is essential for any true high-performance culinary appliance. You can be confident in the control and accuracy built into our 18SR stainless steel Accufire™  grilling engine. This commercially-inspired fire delivery method creates some of the highest temperatures in the industry, and serves as the suspension system for "The ultimate grilled food" coming from your customized outdoor kitchen. With dual rows of corrosion-resistant, clean-combusting, double-lanced ports and a lifetime warranty, this grill is built to last a lifetime.
OPTIONAL
SEAR ZONE™


FOR INFRARED COOKING

Savory meats rely on quick, intense heat. The Alfresco Sear Zone™ Infrared Burner amplifies flavors for virtually any entrée you plan to grill, locking in the juices of a filet mignon, chicken breast, or even a seafood shrimp skewer.

This high-tech Sear Zone™ burner reaches 1500ºF in four minutes, and cooks 50% faster with virtually no flare-ups. The special "V-shaped" flavorizer cooking grate also captures the natural juices, fats, and flavors, then caramelizes them to the food for delectable, mouthwatering flavor. This means savory, melt-in-your-mouth proteins, all at your control. Video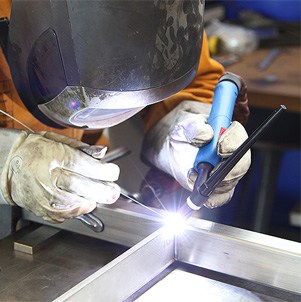 MADE IN THE USA
All of our products are designed by commercial appliance experts and built by grill industry veterans. Made from all commercial-grade 304, 18-8 stainless steel with all heli-arc hand-welded seams and no mechanical fasteners, it's no wonder Alfresco is recognized as the best-of-the-best.
SIGNATURE TASTE™


INTEGRATED SMOKING SYSTEM

With a dedicated stainless steel burner, our exclusive Signature Taste™ smoking system opens a whole new world of flavors for the aspiring outdoor chef. The drawer holds large chunks of wood and herbs, and linear diffusing vents naturally eject smoke at 200º to the food zone. Video
ELECTRO-POLISHED STAINLESS STEEL COOKING GRATES
Sitting over the briquette and "U" burner sections, these ultra-premium grates are made from heavy-duty
3/8-inch round stainless steel rod, and have a special nonstick electro-polished finish.
PRECISION-POINT™


CONTROL PANEL LIGHTING

Precise LED front panel lighting projects rich amber beams of light exactly where you need them.

 
ERGONOMIC CONTROLS
Easy-to-reach, stainless steel push-button ignition, lighting, and rotisserie controls are ergonomically integrated into the front control panel.
EXCLUSIVE
SAFETOUCH™


AIR-COOLED CONTROL PANEL

Our exclusive SafeTouch™ design creates an insulating barrier of ambient air flowing between the front panel and the grill firebox. This results in all of the control components staying safe to the touch. We like to say we are "Grandchild Safe!"
HALOGEN RADIANT LIGHTING
Designed to focus on the subject, Alfresco's integrated high-intensity halogen lights angle slightly toward the center of the cooking surface creating bright, even illumination. The light lenses are easily removable without the use of tools.
NICKEL-PLATED KNOBS
AND BEZELS
Like the steering wheel of a high-performance race car, Alfresco grill knobs are designed for precise maneuvers. Placed at exacting positions, these corrosion-resistant cooking controls have been designed to specifically address ergonomics and accuracy for the outdoor culinary chef.
EXCLUSIVE
DURASLEEVE™


HEAT-PROTECTED WIRING

Alfresco's exclusive wire protection system encapsulates the full length
of every wire and connection point with a 600º heat-resistant silicone sleeving, ensuring years of unmatched weather-resistant performance.

 
REFRACTIVE CERAMIC 5-WAY
HEAT DISTRIBUTING BRIQUETTES
Eliminates hot and cold spots, making the effective grilling area 100% of the grilling surface. High-density composite material in a flat top pyramid-shape, with a heat-holding cavity underneath, delivers intense heat to the cooking surface. Radiant tray locks briquettes in place.
EXCLUSIVE HIDDEN AND INTEGRATED
MEGA-DRIVE™

ROTISSERIE SYSTEM

This unique, chain-driven, whisper-quiet food rotation system is perfectly smooth and consistent, and is designed for ultra-roasting from the smallest to the largest of entrées. We build the Mega-Drive™ directly into the grill assembly, allowing for hassle-free, delicious roasted foods.

 
INSET ROTISSERIE BURNER
All Alfresco grills come with a flush-mounted 1500º rear ceramic infrared rotisserie burner. In conjunction with our integrated Mega-Drive™ motor system, rotisserie cooking perfection has never been easier. Video
EXCLUSIVE
EZ-LIFT™


HOOD-ASSIST SYSTEM

Save your strength. Alfresco's integrated and commercially-inspired spiral torsion hood-assist system offers ultra-smooth, single-finger hood lifting and closing while you cook. Made of non-corrosive stainless steel, the EZ-Lift™hood design is built for many years of reliable performance.

 

 

 
ADJUSTABLE FOOD WARMING
AND GRILLING RACK
This versatile, three-position adjustable warming rack is ideal for above-the-grates cooking, food holding, and warming, The all-stainless steel shelf stores conveniently up and out of the way when using the rotisserie.